Individuals



1 Ball

2 Ball

3 Ball

4 Ball

Winter (1st Nov - 28th Feb) WINTER MATS IN PLAY

£25

£40

£60

£60

Shoulder (Mar & Oct) Rental equipment available up to 12pm

£35

£60

£75

£80

Summer (1st Apr - 30th Sep) Rental equipment available up to 3pm

£55

£100

£135

£160

Twilight Rate Mon - Fri after 3pm (1st Apr- 30th Sep) Rental equipment unavailable at this time

£35

£60

£75

£80

2nd Round subject to T&C's = charged at 50% of the appropriate full rate
Prestonfield Golf Club is delighted to welcome all golfers visiting the City of Edinburgh.
Individual visitors can book tee times online on the day and up to two days in advance by using the link above or by contacting the professional shop. Great rates are available whenever you play.
VISITOR AMENITIES
Access to car parking & changing rooms.
Clubhouse bar and catering.
Free Wi-Fi is available throughout the club.
Practice warm-up area, putting green, chipping and a warm-up nets.
RENTAL EQUIPMENT
Winter rental: last rental time 12pm
| | | | |
| --- | --- | --- | --- |
| GOLF CARTS £35 | ELECTRIC TROLLEYS £10 | RENTAL CLUBS £35 | MANUAL TROLLEYS £5 |
Please contact the professional shop for all your rental requirements prior to arrival.
PLAYING REQUIREMENTS
For your enjoyment we recommend that all players should be of an intermediate standard and have golfing experience.
We operate with a one bag per person policy. All players must have their own set of clubs in order to play the course.
A round should not take longer than 3 hours 45 minutes.
dress code policy
All visitors are politely asked to ensure that they conform to the Club's standard of dress both on the course and in the clubhouse. Smart comfortable clothing specifically designed for the purpose of playing golf is expected. Jeans are not permitted on the course and a collared shirt is preferred.
The professional and the bar staff will ensure that the dress code is observed.
COURSE SLOPE RATING (MEN)
PAR
RATING
SLOPE
70
70.5
125
70
68.7
121
67
66.7
116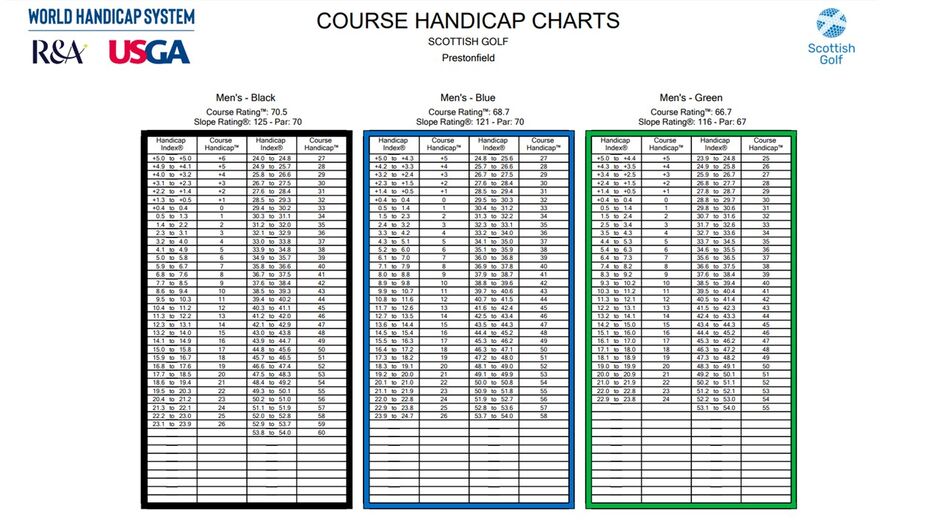 COURSE SLOPE RATING (WOMEN)
PAR
RATING
SLOPE
75
75.9
139
74
74.3
132
73
71.9
126

have a question?
Our professional team will delighted to assist you with any enquiry you may have.
Tel: 0131 667 8597
Email: proshop@prestonfieldgolf.com